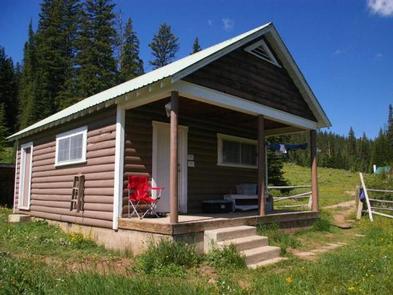 With some of the most spectacular scenery in America, Wyoming is an excellent place to rent a mountain cabin for some well deserved R & R.
There is no better way to enjoy these awe-inspiring mountains than from a sturdy cabin you call home. This page features 13 Wyoming mountain cabin rentals.
Be sure to click through on each Colorado mountain cabin entry below to read the full description before you reserve your spot. Access & amenities vary widely.
Directions From Buffalo, Wyoming, take U.S. Highway 16 southwest about 27 miles. Phone 406-587-9054 Activities BIKING, CAMPING, FISHING, HIKING, WILDLIFE VIEWING Keywords LCBN,BOULDER PARK,BIGHORN NF – FS Related Link(s) Rec Area Info & Images Overview Lost Cabin Campground is located 29 miles west of Buffalo, Wyoming on the east side of scenic Cloud Peak Skyway, near the Cloud Peak Wilderness Area. The Bighorn National Forest offers a wide variety of activities, including hiking, fishing, scenic driving and a number of historic sites. The administering organization is Gallatin Canyon Campgrounds; e-mail: gccampgrounds13@gmail.com Recreation Scenic off-road driving is available on nearby Elgin Park, Pole Creek and Crazy Woman Canyon Roads. Hiking and mountain biking are allowed on these roads as well. Many additional hiking trails are available in the Cloud Peak Wilderness. A short trail leads from the campground to a scenic creek below. Facilities The campground offers several single-family sites each
» Learn More & Rent »
Mountain cabin rentals are a form of glamping. This is a relatively new term that combines the words glamorous and camping. It is for folks that want the outdoor experience that comes with camping, but with more comfort. Learn about other forms of glamping here.