Scenic Washington state has many wonderful recreation areas. Why not explore them with a secluded cabin rental for your home base?
This page features 14 rustic & secluded cabins in scenic Washington state. These locations are in a perfect home base for many outdoor activities, from hiking to biking.
Be sure to click through on each secluded mountain cabin below to read the full description before you reserve your spot. Access & amenities vary widely.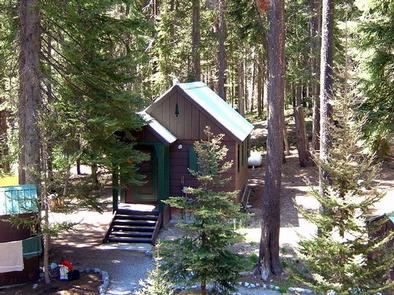 Directions There is a combination lock on the shower unit. This will give you access to the Cabin's key. To obtain the current lock combination, call the Ranger Station (Monday-Friday) 48 hours prior to your arrival at (509) 784-4700. Have your reservation number available when you call. Cottonwood Cabin is accessible by car. Please contact the Ranger District at (509) 784-4700 prior to arrival for current restrictions or conditions, such as fire or road closures, weather or storms that may affect the quality of your visit. From north Seattle/Everett take US-2 to Wenatchee. From south Seattle/Tacoma take I-90 to exit 85 and then WA-970, US-97 and US-2 to Wenatchee. From Wenatchee, WA , at the junction of US Highway 2 and Washington State Route 97A, take State Route 97A and travel north 17 miles along the west bank of the Columbia River. Turn left 100 yards north of the Entiat
» Learn More & Rent »
Rustic & secluded cabin rentals are a form of glamping. This is a relatively new term that combines the words glamorous and camping. It is for folks that want the outdoor experience that comes with camping, but with more comfort. Learn about other forms of glamping here.