See the Utah mountains like you've never seen them before, from a mountain cabin rental in the heart of scenic Utah.
Discover abundant opportunities for hiking, fishing, mountain biking, and horseback riding.

This page features 6 US Forest Service cabins in Utah that you can rent for reasonable rates.
Be sure to click through on each Utah mountain cabin entry below to read the full description before you reserve your spot. Access & amenities vary widely.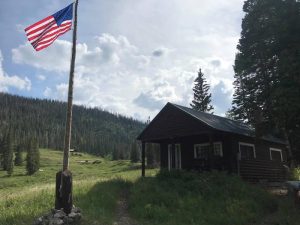 Directions From Ferron, head west on West Canyon Road. Heading out of town, you will pass the golf course and Millsite Park. The pavement ends near the forest boundary. Stay on this road till you get to Ferron Reservoir, about 27 miles. Go to the left around the reservoir and
» Learn More »
Mountain cabin rentals are a form of glamping. This is a relatively new term that combines the words glamorous and camping. It is for folks that want the outdoor experience that comes with camping, but with more comfort. Learn about other forms of glamping here.