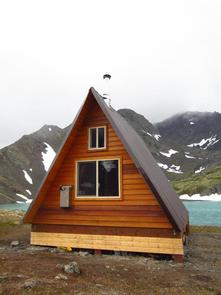 See the Alaska mountains as you've never seen them before, from a mountain cabin rental in the heart of the amazing Alaska mountains.

Glaciers and peaks around the cabins offer experienced climbers a challenging adventure.

This page features 84 mountain cabin rentals in the heart of the Alaska mountains that you can reserve online. 
Be sure to click through on each Alaska mountain cabin entry below to read the full description before you reserve your spot. Access & amenities vary widely. 
Directions Access to the cabin is by floatplane or canoe/kayak with portage. It is about a 45-minute flight from Juneau. By canoe and portage, it is about 6.5 miles from Mole Harbor. Refer to USGS topographic map Sitka C-1, C-2. Click here for information about reaching Forest Service cabins. Phone 907-586-8800 Activities BOATING, CAMPING, FISHING, HIKING, WILDLIFE VIEWING Keywords LADE,TONGASS NF – FS Related Link(s) Rec Area Info & Images Alaska State Road Conditions Alaska State Tourism Overview Lake Alexander Cabin offers recreation, relaxation and a unique wilderness lodging experience in Tongass National Forest, on the northwest end of Lake Alexander, a part of the Admiralty Island Canoe Route. The remote site offers a scenic setting for hiking, fishing, canoeing and wildlife viewing. Access to the cabin is via floatplane or canoe/kayak with portage. Visitors are responsible for their own travel arrangements and safety, and must bring several of their
Mountain cabin rentals are a form of glamping. This is a relatively new term that combines the words glamorous and camping. It is for folks that want the outdoor experience that comes with camping, but with more comfort. Learn about other forms of glamping here.