If you are fond of camping or caravaning for a couple of days or weeks, bringing a generator is a must. How can you charge your devices if you do not have access to electricity? Do you think you will remain comfortable and safe outdoors without electricity?
Generators for camping or caravaning are very common today. You will have portable generator options online and offline. But if you do not have any experience buying a generator, choosing one can be tough. You will likely see yourself clueless on how to comb through several options and what to consider when choosing. Fortunately, this article can help.
Here's how you can choose a generator for camping or caravaning:
Find Out What You Need To Power
Different people will bring different items when camping or caravaning. While some will only pack their smartphones and flashlights, others want to bring some comforts of home. People that fall into the latter category are more likely to bring a variety of kitchen appliances, as well as safety and entertainment equipment.
To choose a generator for camping or caravaning, start by listing the devices that will require power when you are outdoors. Make sure to include the average consumption of these devices, so you can easily find an appropriate generator.
If you have a limited budget, strive to reduce the number of electric devices you will use to lower your power consumption. This should be on top of your to-do list to make it easier for you to choose a generator. For instance, instead of bringing an electric grill and kettle when camping, opt to cook and boil water over the fire.
Decide On Your Budget
Camping and caravaning will require money, and spending too much on a generator will prevent you from making those trips as often as you want to. Worse, you won't be able to enjoy your generator if you no longer have sufficient funds to go camping or caravaning.
Decide and stick to a realistic budget when choosing a generator. On average, outdoor generators can cost anywhere from USD$500 to USD$2,000. Aside from the price of the generator, it is also important to consider the cost of its fuel. Buying a cheap generator will incur more costs in the long run if it is not fuel-efficient.
People who are fond of camping and caravaning would often invest in a generator powered by diesel. This type of generator is more fuel-efficient, easier to maintain, and suitable for long-term use. Learn more about diesel-powered generators and assess if this suits your needs and budget.
Determine What The Inclusions Are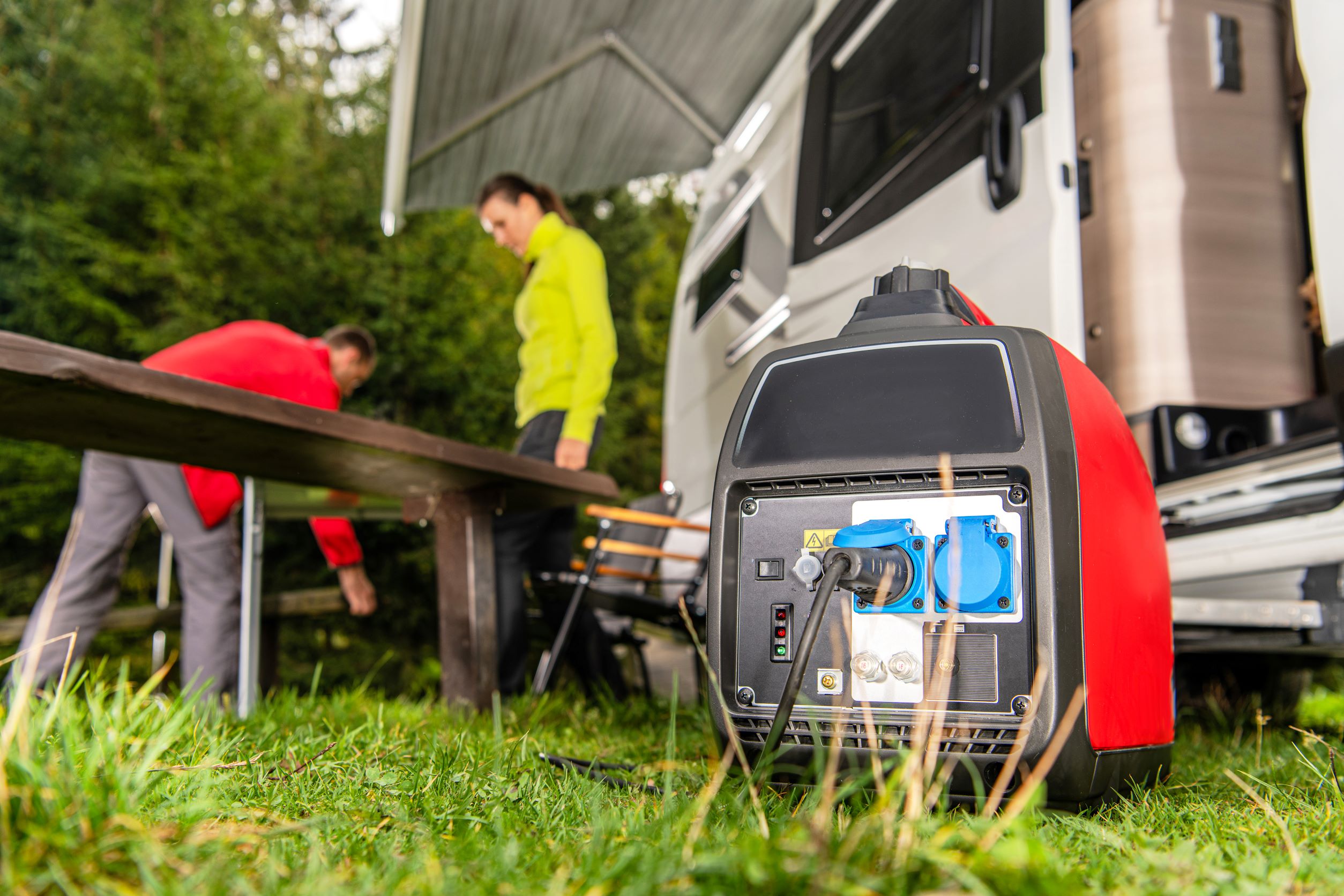 One of the biggest misconceptions people have is that they'll have everything they need to go on camping or caravaning after buying a generator. However, this isn't always true because you'll need to buy separate accessories to use your generator.
Most generators don't include an automatic voltage regulator. This device is crucial if you are planning to bring sensible devices, like laptops, home theaters, and tablets when camping or caravaning. You might also need to buy wheel kits, circuit breakers, and an extension lead before you can use your brand-new generator.
Take the time to determine what the inclusions are before buying a generator. This information is crucial, especially when you're budgeting or buying a generator for an urgent trip.
Make Sure It Comes With A Warranty
Buying a generator for camping or caravaning will require your long-term commitment as you need to ensure that it continues to work for years. You won't be able to enjoy your investment if your generator gets damaged weeks after buying it.
If you do not want to spend money just to use your generator for years, buy one that comes with a warranty. A generator with a warranty is often more expensive than models that don't have any, but the former will bring more savings in the long run. If your generator breaks down while it is still under warranty, it will be serviced or replaced at no cost to you.
Think About The Noise
It will be challenging for you to enjoy the great outdoors if your generator makes too much noise. Instead of relaxing, you will end up being stressed whenever you are camping or caravaning as the noise from your generator can drown out the natural sounds produced by animals, flowing streams, and the wind.
Don't forget to consider the noise when choosing a generator. Ideally, you should choose a generator that only produces about 50 to 70 decibels. These noise levels are considered moderate and will only sound as loud as a dishwasher or washing machine.
Since different people have different tolerance when it comes to noise, consider trying out several generators before buying one. This allows you to determine which one suits your preferred noise levels.
Assess Portability And Ease Of Use
Camping and caravaning will require you to visit different locations. For example, you might be spending one night in one campsite and then another night in another location.
Consider the generator's mobility and ease of use when spending time outside to assure your enjoyment and convenience. Buying a cheap but heavy generator can cause a lot of problems as this will require more time and effort to move around. This alone can be a problem if you love to travel by yourself.
If the device's primary goal is to provide electricity while you are out and about, it is preferable to invest in a portable generator. Portable generators are lightweight, which means that you can carry them around with ease.
Additionally, always assess the ease of use of the generator before buying one. You will enjoy your generator better if you choose a model that's easy to operate—from turning it on, connecting several devices, to turning it off.
Choose Carefully
A generator is an important and expensive investment, so never rush the process. Take all the time you need to assess options and weigh the pros and cons of each. When you follow all of the tips presented in this article, you can easily find the perfect generator, making your camping and caravaning trip more enjoyable!