California is one of the most attractive states in the United States and it always guarantees good weather. "Sunny California" they call it. If you are about to go to California, you probably would like to learn about must-visit places and things to do in California, but just as important is to book your vacation accommodation, and the best service to do it is — Karta.com.
Take good note of these 12 places you can't miss in California to make the most of your trip to the west coast of the United States!
Yosemite National Park
If there are several must-see places to visit in California, Yosemite National Park is undoubtedly one of the first. For many it is the most beautiful National Park in the United States and there are many reasons to think so. Its huge granite gorges were sculpted by the force of glaciers and today it is famous for its high and numerous waterfalls. You have valleys, forests, meadows, wild nature and endless trails to fill your lungs with fresh air. If you want to sleep in one of the accommodations close to the park, we recommend you book as far in advance as possible. Karta vacation rentals offers a wide variety of properties in this area.
Sequoia National Park and Kings Canyon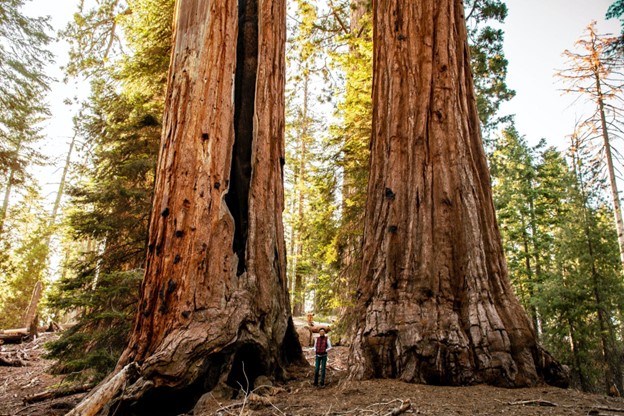 Very close to Yosemite is Sequoia and Kings Canyon National Park. If you think you've seen big trees in your life, wait until you see these, because they will certainly leave you speechless. Here you will enter a land of giants, where sequoias that are nearly 2,000 years old tower over each other as you pass by. You will have to pay a visit to General Sherman, a sequoia that despite its 84 meters high and 11 meters in diameter is neither the tallest nor the widest, but it is the one with the largest volume. A walk through the Giant Forest, which is a real museum of trees, and you will never go back even though the trees you have seen until then are large. You can also find more sequoias at Muir Woods National Monument, Redwood National & State Parks and Humboldt Redwoods State Park.
San Francisco
Another must-see in California. The city of San Francisco demands several days of your time. It goes without saying that your first stop should be at the Golden Gate Bridge, so that if you catch it cloudy you have time to return later if the sun shines. Also waiting for you is Alcatraz, the most famous prison in the world, the picturesque neighborhoods of Castro and Mission, the old streets of Chinatown, the lively Fisherman's Wharf, the Coit Tower, Pier 39 with its sea lions and the curious Musée Mecanique, among many other things. Walk along «painted ladies» — rows of colorful Victorian and Edwardian houses. Or book your stay in one of these houses on Karta.com.
The California Missions
The Spanish left traces of their presence in California and from 1769 they built up to 21 missions from San Diego to Sonoma. The Franciscan Junipero Serra was largely responsible for this, and he built 9 of them, many of which you can still visit today. For example, the San Francisco de Asis Mission in San Francisco, the Old Mission Santa Barbara in Santa Barbara, the Mission San Luis Obispo de Tolosa in San Luis Obispo, or the Mission San Carlos Borromeo del Rio Carmelo in Carmel, to name just a few of the ones you can visit on your way between Los Angeles and San Francisco.
Los Angeles
Los Angeles is a bit of a crazy city and hard to take in, but with a few must-see spots that you can't miss as soon as you get used to the dense traffic. Of course you will have to go to Hollywood and some of its studios, to take a walk along the walk of fame and look for the star of your favorite actors and actresses, to get into Beverly Hills or Bel Air to hallucinate with their houses and to climb the Griffith Observatory to contemplate the city of the stars at your feet.
Santa Monica and Venice beaches
Next to Los Angeles you have two other places of interest that will come in handy if you flee from the hustle and bustle of the city. The Santa Monica beach offers miles of sand for you to peasants at your leisure, in addition to the famous Santa Monica Pier where its attractions, with roller coaster and Ferris wheel included, illuminate the silhouette of the coast every night. If you walk a little further south you will reach Venice Beach, a much more casual and alternative beach that has little to do with Santa Monica, but that delights lovers of the slow movement.
Big Sur
The route that connects Los Angeles with San Francisco is the Pacific Coast Highway and all of it is worthwhile, but it is even more beautiful if we focus on the stretch known as the Big Sur. The road winds along the coast, skirting cliffs between forests and ocean, constantly overlooking the Pacific. Along this route you will pass through beautiful natural areas, such as Point Lobos, ideal for observing marine wildlife, charming towns (and lots of money) like Carmel by the Sea, bridges like Bixby Creek and Piedras Blancas, a small beach where you will find a huge population of elephant seals.
Napa Valley and Sonoma
These are the quintessential wine regions of California, and arguably of the entire United States, the American "Wine Country". They are only an hour's drive from San Francisco and if you are a wine lover you will appreciate a ride here to get lost on the back roads of its hills. There are more than 600 wineries, the cabernet-sauvignon variety is the protagonist in the vineyards of Napa and the zinfandel and syrah in Sonoma. If you want to visit any of the wineries, it's recommended to make your reservation in advance.
Death Valley
Death Valley, the Californian Death Valley, is an impressive place. An almost apocalyptic and desolate terrain that can become scorching. But a work of art of nature after all. It holds the record of being the hottest spot in the United States, where it has reached 57º C., and the lowest, at 86 meters below sea level at the Badwater location. A landscape of canyons carved by water, sand dunes and a huge salt plain.
The Mojave Desert
The Mojave Desert is the Mojave National Preserve, a vast, hot expanse of land worth crossing to see one of California's most impressive landscapes. Here you will see the largest concentration of Joshua trees in the world, some dunes, volcanic cones, desert tortoises, coyotes and, watch out for this, dangerous rattlesnakes. A place to go if you are looking for absolute silence.
San Diego
Some say that it is the best city to live in California, and not in vain has earned the nickname of "the most elegant city in the United States". Here you can take a stroll through Old Town, where the historic center of the city from the mid-nineteenth century is preserved, visit the USS Midway, an aircraft carrier converted into a museum that was in service from 1945 to 1992, go into Balboa Park and visit some of its museums, or stroll through Gaslamp Quarter, the cultural and commercial center of the city. If you add beaches like Imperial Beach, Coronado Beach or Mission Beach, you have enough reasons to visit this city on the border with Mexico.
Lake Tahoe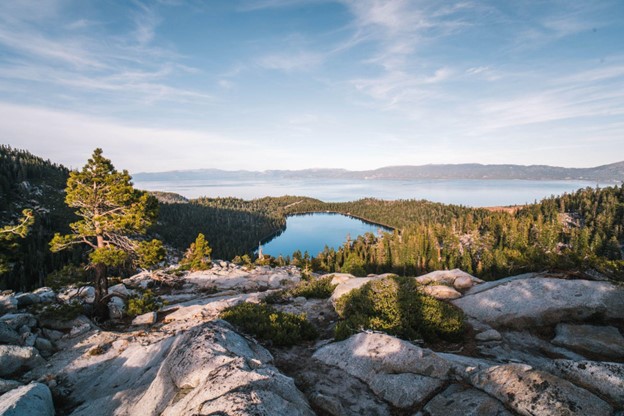 Lake Tahoe is the border between California and Nevada. A cluster of bright blue water in the middle of nature that offers a myriad of different activities, whatever the time of year, with snow in winter and lush vegetation in spring. An ideal place if water activities call to you, because a canoe ride along its shores will be like stepping into a real postcard, a landscape of colors so intense that they come to seem retouched.
What do you think of these places to see in California? Surely they will help you prepare your route and not miss the best places on your trip.