Owls possess large, forward-facing eyes and ear-holes, a hawk-like beak, a flat face, and usually a conspicuous circle of feathers, a facial disc, around each eye. The feathers making up this disc can be adjusted to sharply focus sounds from varying distances onto the owls' asymmetrically placed ear cavities. Most birds of prey have eyes on the sides of their heads, but the stereoscopic nature of the owl's forward-facing eyes permits the greater sense of depth perception necessary for low-light hunting. Although owls have binocular vision, their large eyes are fixed in their sockets—as are those of most other birds—so they must turn their entire heads to change views. As owls are farsighted, they are unable to clearly see anything within a few centimeters of their eyes. Caught prey can be felt by owls with the use of filoplumes—hairlike feathers on the beak and feet that act as "feelers". Their far vision, particularly in low light, is exceptionally good.
Watch Nice Owl Video for Kids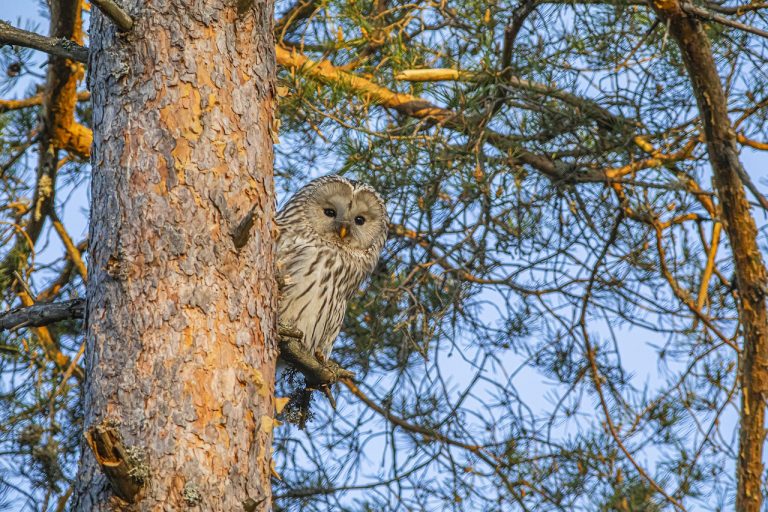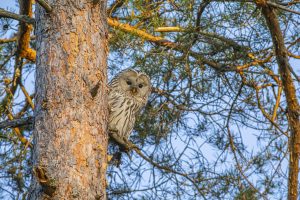 Owls can rotate their heads and necks as much as 270°. Owls have 14 neck vertebrae compared to seven in humans, which makes their necks more flexible. They also have adaptations to their circulatory systems, permitting rotation without cutting off blood to the brain: the foramina in their vertebrae through which the vertebral arteries pass are about 10 times the diameter of the artery, instead of about the same size as the artery as in humans; the vertebral arteries enter the cervical vertebrae higher than in other birds, giving the vessels some slack, and the carotid arteries unite in a very large anastomosis or junction, the largest of any bird's, preventing blood supply from being cut off while they rotate their necks. Other anastomoses between the carotid and vertebral arteries support this effect.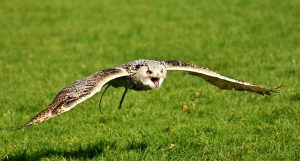 All owls are carnivorous birds of prey and live mainly on a diet of insects and small rodents such as mice, rats, and hares. Some owls are also specifically adapted to hunt fish. They are very adept in hunting in their respective environments. Since owls can be found in nearly all parts of the world and across a multitude of ecosystems, their hunting skills and characteristics vary slightly from species to species, though most characteristics are shared among all species.
Eyesight is a particular characteristic of the owl that aids in nocturnal prey capture. Owls are part of a small group of birds that live nocturnally, but do not use echolocation to guide them in flight in low-light situations. Owls are known for their disproportionally large eyes in comparison to their skulls. An apparent consequence of the evolution of an absolutely large eye in a relatively small skull is that the eye of the owl has become tubular in shape. This shape is found in other so-called nocturnal eyes, such as the eyes of strepsirrhine primates and bathypelagic fishes. Since the eyes are fixed into these sclerotic tubes, they are unable to move the eyes in any direction. Instead of moving their eyes, owls swivel their heads to view their surroundings.
Watch Nice Owl Video for Kids