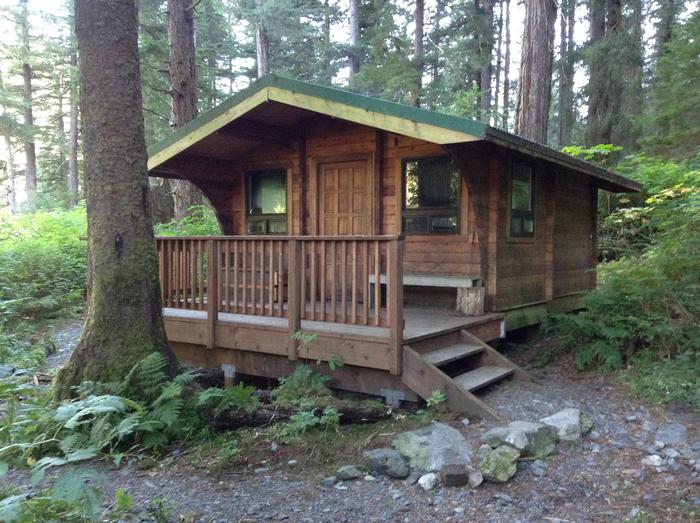 Ditch the tent and discover these awesome rustic & secluded cabin rentals "near me" in the most scenic states in America, often for not much more than the cost of a campsite. 
Secluded – The cabins are secluded in US Forest Service national forests and recreation areas.
Scenic – The cabins are all located in spectacular scenic areas with abundant recreational opportunities. 
Rustic – Many of the cabins were built back in the 1930's or 40's as guard stations or lookout tower staff quarters.
For an unforgettable outdoor experience, check out these 36 rustic cabins in Idaho. These scenic & secluded rustic cabins were built and are maintained by the US Forest Service. Be sure to read the full details on each cabin, before you proceed to rent the cabins online. Access and amenities vary widely. Enjoy your time in scenic Idaho! Rustic & secluded cabin rentals are a form of glamping. This is a relatively new term that combines the words glamorous and camping. It is for folks that want the outdoor experience that comes with camping, but with more comfort. Learn about other forms of glamping here.
Secluded Cabin Rentals "Near Me": Rent a Cabin in the Woods!
Searching for a cabin in the woods rental "near me"? The secluded cabin rentals on this page are organized by State, to help you find the perfect rustic cabin rental near you. To top it off, these cabins are not only "in the woods", they are often part of the esteemed US national forest system and recreation areas managed by the US Forest Service.
The secluded cabins on this page are the perfect vacation if you want to rent a cabin to relax and unwind from city life. Weekend cabin rentals are a great way to do that. Wake up to the sounds of nature rather than the sound of sirens!
In many cases the cabins are the only one in the area for miles around, unlike typical vacation cabin rentals that are often at busy locations like popular lakes. That is because many of these cabins have been repurposed from old guard stations and fire lookout tower staff accommodations.
Cheap Cabin Rentals "Near Me": Rent a Cabin Without Breaking the Bank
These remote cabin rentals are indeed "rustic", often built in the 1930's and 1940's. For that reason, you can often rent a cabin for not much more than the cost of a campsite (although prices do vary widely). They are worth considering as cheap cabin rentals.

Cheap cabins however do not mean a vacation of less quality. If your goal is to get closer to nature, then the cheap cabins on this page could very well give you a much greater cabin stay experience compared to luxury cabin rentals that often come in clusters, rather than being surrounded by nature and nothing but nature.
Cabin Rental "Near Me": Where is the best place to rent a cabin?
If you found your way to this page, then a rustic cabin rental in a scenic, secluded area is likely your definition of the best place to rent a cabin. And we wouldn't argue with you. The restorative power of nature is greater the closer to nature you get. A cabin rental from this page checks all those boxes. Rustic, check. Secluded, check. Scenic, check. Close to nature, check.
A cabin rental can be compared to many things. Compared to tent camping, a rustic cabin rental has more amenities. Compare to a luxury cabin rental, a rustic cabin has less of the amenities you are used to at home. Therefore the question: "where is the best place to rent a cabin?" is a matter of perspective.

Of course proximity to your home is also a factor. That is why the cabin rentals on this page are organized by State, so you can narrow your search as much as possible. The search bar at the top of this page can help you narrow things down further, although many of those search results will include campgrounds, not just cabin rentals.


Let us know your idea of the best place to rent a cabin in the comments section below!