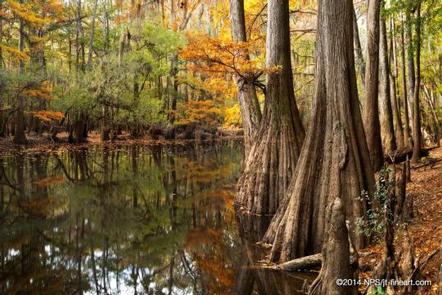 These South Carolina public campground listings are all vehicle-accessible, family campgrounds with 4 or more campsites. They are in alphabetical order by nearby town/city to help you find campgrounds near you.
The listings give you easy access to key information about each campground including the number of campsites, map, campground type & phone number. Call in advance to confirm the campground details & reserve when possible.
Visit our South Carolina campground reservations pages that include a larger description, images, directions etc.
---

Abbeville is the nearest city/town to the Baker Creek State Park campground in SC.

Type: State Park Phone: 864.443.2457 Campsites: 100 >> View Map
---

Abbeville is the nearest city/town to the Parsons Mountain Lake campground in SC.

Type: US National Forest Phone: 803.637.5396/803.561.4000 Campsites: 23 >> View Map
---

Anderson is the nearest city/town to the Sadlers Creek State Park campground in SC.

Type: State Park Phone: 864.226.8950 Campsites: 60 >> View Map
---

Anderson is the nearest city/town to the Springfield - Hartwell Lake campground in SC.

Type: US Corps of Engineers Phone: 888.893.0678 Campsites: 80 >> View Map
---

Bishopville is the nearest city/town to the Lee State Natural Area campground in SC.

Type: State Park Phone: 803.428.5307 Campsites: 25 >> View Map
---

Blackville is the nearest city/town to the Barnwell State Park campground in SC.

Type: State Park Phone: 803.284.2212 Campsites: 30 >> View Map
---

Calhoun Falls is the nearest city/town to the Calhoun Falls State Rec Area campground in SC.

Type: State Park Phone: 864.447.8267 Campsites: 100 >> View Map
---

Carlisle is the nearest city/town to the Woods Ferry campground in SC.

Type: US National Forest Phone: 803.276.4810/803.561.4000 Campsites: 36 >> View Map
---

Charleston is the nearest city/town to the James Island campground in SC.

Type: County/City/Regional Park Phone: 843.795.7275 Campsites: 125 >> View Map
---

Cheraw is the nearest city/town to the Cheraw State Park campground in SC.

Type: State Park Phone: 843.537.9656 Campsites: 15 >> View Map
---

Chester is the nearest city/town to the Chester State Park campground in SC.

Type: State Park Phone: 803.385.2680 Campsites: 25 >> View Map
---

Clemson is the nearest city/town to the Twin Lakes - Hartwell Lake campground in SC.

Type: US Corps of Engineers Phone: 888.893.0678 Campsites: 100 >> View Map
---

Cleveland is the nearest city/town to the Pleasant Ridge County Park campground in SC.

Type: County/City/Regional Park Phone: 864.288.6470 Campsites: 25 >> View Map
---

Clover is the nearest city/town to the Kings Mountain State Park campground in SC.

Type: State Park Phone: 803.222.3209 Campsites: 125 >> View Map
---

Columbia is the nearest city/town to the Sesquicentennial State Park campground in SC.

Type: State Park Phone: 803.788.2706 Campsites: 85 >> View Map
---

Coward is the nearest city/town to the Lynches River County Park campground in SC.

Type: County/City/Regional Park Phone: 843.667.0920. Campsites: Unknown >> View Map
---

Dillon is the nearest city/town to the Little Pee Dee State Park campground in SC.

Type: State Park Phone: 843.774.8872 Campsites: 50 >> View Map
---

Edgefield is the nearest city/town to the Cyper Creek campground in SC.

Type: US National Forest Phone: Unknown Campsites: Unknown >> View Map
---

Edgefield is the nearest city/town to the Lick Fork Lake campground in SC.

Type: US National Forest Phone: 803.637.5396/803.561.4000 Campsites: 6 >> View Map
---

Edisto Island is the nearest city/town to the Edisto Beach State Park campground in SC.

Type: State Park Phone: 843.869.2756 Campsites: 115 >> View Map
---

Fort Mill is the nearest city/town to the Ebenezer County Park campground in SC.

Type: County/City/Regional Park Phone: 803.366.6620 Campsites: 69 >> View Map
---

Greenville is the nearest city/town to the Paris Mountain State Park campground in SC.

Type: State Park Phone: 864.244.5565 Campsites: 50 >> View Map
---

Jamestown is the nearest city/town to the Elmwood campground in SC.

Type: US National Forest Phone: /803.561.4000 Campsites: Unknown >> View Map
---

Jamestown is the nearest city/town to the Guilliard Lake campground in SC.

Type: US National Forest Phone: /803.561.4000 Campsites: 6 >> View Map
---

Lancaster is the nearest city/town to the Andrew Jackson State Park campground in SC.

Type: State Park Phone: 803. 285.3344 Campsites: 25 >> View Map
---

Liberty is the nearest city/town to the Mile Creek County Park campground in SC.

Type: County/City/Regional Park Phone: 864.868.2196 Campsites: Unknown >> View Map
---

Mcclellanville is the nearest city/town to the Buckhall campground in SC.

Type: US National Forest Phone: /803.561.4000 Campsites: 14 >> View Map
---

McClellanville is the nearest city/town to the Honey Hill campground in SC.

Type: US National Forest Phone: /803.561.4000 Campsites: Unknown >> View Map
---

McCormick is the nearest city/town to the Hawe Creek - Strom Thurmond Lake campground in SC.

Type: US Corps of Engineers Phone: 864.443.5441 Campsites: 30 >> View Map
---

Mccormick is the nearest city/town to the Hickory Knob State Resort Park campground in SC.

Type: State Park Phone: 800.491.1764 Campsites: 45 >> View Map
---

Modoc is the nearest city/town to the Hamilton Branch State Park campground in SC.

Type: State Park Phone: 864.333.2223 Campsites: 140 >> View Map
---

Modoc is the nearest city/town to the Modoc - Strom Thurmond Lake campground in SC.

Type: US Corps of Engineers Phone: 864.333.2272 Campsites: 50 >> View Map
---

Mount Carmel is the nearest city/town to the Mount Carmel - Strom Thurmond Lake campground in SC.

Type: US Corps of Engineers Phone: 864.391.2711 Campsites: 40 >> View Map
---

Mountain Rest is the nearest city/town to the Burrells Ford campground in SC.

Type: US National Forest Phone: 864.638.9568/803.561.4000 Campsites: 9 >> View Map
---

Mountain Rest is the nearest city/town to the Cherry Hill campground in SC.

Type: US National Forest Phone: 864.638.9568/803.561.4000 Campsites: 29 >> View Map
---

Mountain Rest is the nearest city/town to the Long Bottom Ford campground in SC.

Type: US National Forest Phone: 864.638.9568/803.561.4000 Campsites: 12 >> View Map
---

Mountain Rest is the nearest city/town to the Oconee State Park campground in SC.

Type: State Park Phone: 864.638.5353 Campsites: 150 >> View Map
---

Murrels Inlet is the nearest city/town to the Huntington Beach State Park campground in SC.

Type: State Park Phone: 843.237.4440 Campsites: 135 >> View Map
---

Myrtle Beach is the nearest city/town to the Myrtle Beach State Park campground in SC.

Type: State Park Phone: 843.238.5325 Campsites: 350 >> View Map
---

Ninety Six is the nearest city/town to the Lake Greenwood State Park campground in SC.

Type: State Park Phone: 864.543.3535 Campsites: Unknown >> View Map
---

Patrick is the nearest city/town to the Sugarloaf Mountain Rec Area - Sand Hills State Forest campground in SC.

Type: State Forest Phone: 843.498.6478 Campsites: 16 >> View Map
---

Pickens is the nearest city/town to the Table Rock State Park campground in SC.

Type: State Park Phone: 864.878.9813 Campsites: 100 >> View Map
---

Prosperity is the nearest city/town to the Dreher Island State Rec Area campground in SC.

Type: State Park Phone: 803.364.4152 Campsites: 110 >> View Map
---

Ridgeville is the nearest city/town to the Givhans Ferry State Park campground in SC.

Type: State Park Phone: 843.873.0692 Campsites: 25 >> View Map
---

Saint Helena Island is the nearest city/town to the Hunting Island State Park campground in SC.

Type: State Park Phone: 843.838.2011 Campsites: Unknown >> View Map
---

Salem is the nearest city/town to the Devils Fork State Park campground in SC.

Type: State Park Phone: 864.944.2639 Campsites: 85 >> View Map
---

Santee is the nearest city/town to the Santee State Park campground in SC.

Type: State Park Phone: 803.854.2408 Campsites: 150 >> View Map
---

Seneca is the nearest city/town to the South Cove County Park campground in SC.

Type: County/City/Regional Park Phone: 864.888.1488 Campsites: Unknown >> View Map
---

Society Hill is the nearest city/town to the H. Cooper Black campground in SC.

Type: State Park Phone: 843.378.1555 Campsites: 27 >> View Map
---

Spartanburg is the nearest city/town to the Croft State Natural Area campground in SC.

Type: State Park Phone: 864.585.1283 Campsites: 50 >> View Map
---

Sunset is the nearest city/town to the Keowee - Toxaway State Natural Area campground in SC.

Type: State Park Phone: 864.868.2605 Campsites: 25 >> View Map
---

Townville is the nearest city/town to the Coneross - Hartwell Lake campground in SC.

Type: US Corps of Engineers Phone: 706.856.0300 Campsites: 105 >> View Map
---

Townville is the nearest city/town to the Oconee Point - Hartwell Lake campground in SC.

Type: US Corps of Engineers Phone: 888.893.0678 Campsites: 70 >> View Map
---

Union is the nearest city/town to the Sedalia campground in SC.

Type: US National Forest Phone: 803.276.4810/803.561.4000 Campsites: 12 >> View Map
---

Walhalla is the nearest city/town to the Chau Ram County Park campground in SC.

Type: County/City/Regional Park Phone: 864.647.9286 Campsites: Unknown >> View Map
---

Walhalla is the nearest city/town to the High Falls County Park campground in SC.

Type: County/City/Regional Park Phone: 864.888.1488 Campsites: Unknown >> View Map
---

Walterboro is the nearest city/town to the Colleton State Park campground in SC.

Type: State Park Phone: 843.538.8206 Campsites: 25 >> View Map
---

Wedgefield is the nearest city/town to the Poinsett State Park campground in SC.

Type: State Park Phone: 803.494.8177 Campsites: 50 >> View Map
---

Whitmire is the nearest city/town to the Brick House campground in SC.

Type: US National Forest Phone: 803.276.4810/803.561.4000 Campsites: 23 >> View Map
---

Willington is the nearest city/town to the Leroys Ferry - Strom Thurmond Lake campground in SC.

Type: US Corps of Engineers Phone: Unknown Campsites: Unknown >> View Map
---

Windsor is the nearest city/town to the Aiken State Park campground in SC.

Type: State Park Phone: 803.649.2857 Campsites: 25 >> View Map
---

Winnsboro is the nearest city/town to the Lake Wateree State Rec Area campground in SC.

Type: State Park Phone: 803.482.6401 Campsites: 70 >> View Map