National parks offer more than scenic views and campgrounds. These pristine landscapes not only provide a haven for nature lovers but also for hunters.
Though not widely known, some national parks do permit hunting under strictly controlled conditions. This practice not only helps control wildlife populations but also provides sustenance for local residents and continues centuries-old traditions.
Grab your gear and, if you use smokeless tobacco products, stock up on nicotine pouches, because one of these parks could be your next hunting destination.
1. Denali National Park, Alaska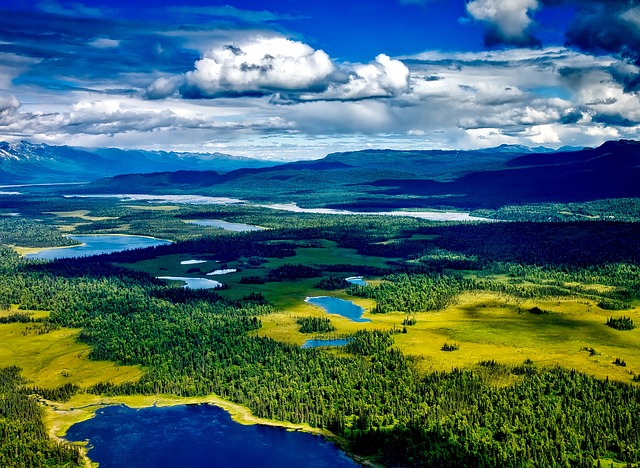 Spanning over six million acres, Denali National Park is a wilderness of raw beauty, teeming with a variety of game species. The park allows subsistence hunting for residents in designated areas who depend on hunting for survival and sustenance.
The process is carefully regulated by the National Park Service and the state of Alaska. Large game such as moose, caribou, and Dall sheep are prevalent, providing a challenge even for experienced hunters.
2. Wrangell-St. Elias National Park, Alaska
Covering 13.2 million acres, Wrangell-St. Elias is the largest national park in the United States. Like Denali, it allows subsistence hunting for those who qualify. The park is home to an abundance of wildlife, including moose, caribou, brown and black bears, Dall sheep, and mountain goats.
With the park's massive glaciers and high mountain peaks as a backdrop, hunting here is an adventure in itself. The hunting season varies by species and area within the park, so hunters must thoroughly understand the regulations.
3. Great Smoky Mountains National Park, North Carolina/Tennessee
Unlike the Alaskan parks, Great Smoky Mountains National Park doesn't generally allow hunting, but an exception is made for a controlled elk hunt. The reintroduction of elk into the park has been a successful program, and to ensure population control, a highly limited hunt is conducted under strict supervision.
Interested hunters must apply for a lottery system, and selected hunters are given specific hunting dates.
4. Lake Clark National Park, Alaska
Lake Clark National Park, another Alaskan gem, allows both subsistence and sport hunting. The park boasts diverse wildlife, including caribou, moose, brown and black bears, and Dall sheep.
The breathtaking landscapes of glacially-carved valleys and volcanic features make this hunting experience exceptional. All hunting activities are stringently regulated to ensure the park's natural balance remains intact.
5. Gates of the Arctic National Park, Alaska
As the northernmost national park in the U.S., Gates of the Arctic provides a truly remote hunting experience. The park allows subsistence hunting for local residents and sport hunting.
The vast wilderness is home to a variety of game, including caribou, grizzly bears, moose, Dall sheep, and wolves. Hunting in this remote, roadless wilderness is for the well-prepared, and hunters must be completely self-sufficient.
Despite the harsh conditions, the reward of unparalleled beauty and the profound silence of this untouched wilderness is well worth the effort.
6. Katmai National Park, Alaska
Located in southern Alaska, Katmai National Park permits subsistence hunting for local rural residents. This park is unique for its active volcanoes, brown bears, fish, and stunning landscapes.
Species available for subsistence hunting include moose, caribou, wolves, and waterfowl. The park is also renowned for its salmon population, making it a hotspot for bear viewing. However, hunting here is a serious endeavor and requires intensive preparation due to the area's remoteness and challenging weather conditions.
7. Yukon-Charley Rivers National Preserve, Alaska
This national preserve in eastern Alaska provides sport and subsistence hunting opportunities. Caribou, moose, Dall sheep, and grizzly bears are among the many game species in this area.
The preserve's name reflects its two major rivers, which form a crucial part of the preserve's ecosystem. It's important to note that hunting seasons and regulations are strictly enforced to maintain healthy animal populations and ecosystems.
8. Noatak National Preserve, Alaska
This remote Arctic wilderness is the largest undisturbed watershed in North America. Noatak National Preserve allows both sport and subsistence hunting, and it's home to diverse wildlife, including caribou, grizzly bears, wolves, and Dall sheep.
The pristine landscapes of tundra, rivers, and mountains make for an unforgettable hunting experience. As with other national parks and preserves, a strong knowledge of hunting rules and regulations is necessary for those planning a hunting trip here.
Find Adventure at the National Parks
Each of these parks offers its unique blend of wildlife, topography, and challenges, providing hunters with a variety of experiences to choose from. Their rules and regulations ensure the delicate balance between man and nature is always maintained. Remember to leave no trace and enjoy the hunt in a safe, sustainable way.