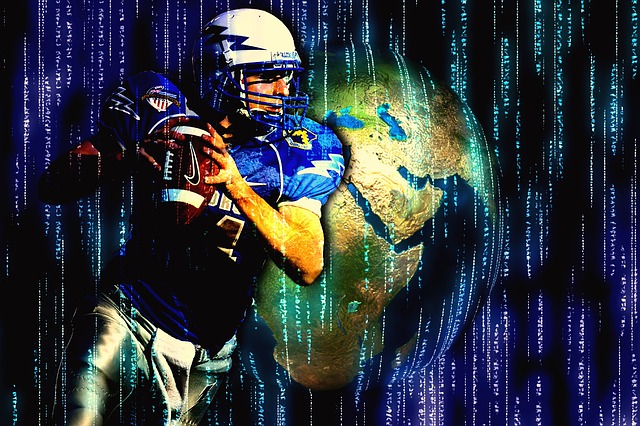 The sports industry is a global market with tremendous value. It is growing fast and becomes more expensive each day. At least, that was until not-so-long-ago when the COVID-19 hit the world.
The Summer Olympics 2020 took place in 2021, with exceptional precautions. Many other famous events were canceled or postponed. The pandemic crisis hit the global sport with extreme cruelty. But it won't last forever. And now is the right time to consider how the sports industry is going to catch up and grow even more prosperous.  
There is already future technology in sports. We can claim that it helped sport become such a powerful global industry as it is now. Without a doubt, all sports will benefit from it more, and the scopes are already evident. 
Solutions for athletes in high-performance sports
Are you a sports fan? Do you remember your favorite sport ten or twenty years ago? Well, it doesn't really matter. But believe us, every sport has evolved tremendously during recent years. Why? Better knowledge and advancements in sports technology made it real. 
Training 
Top athletes train hard to be in top form and prepare for the most crucial competitions. They all are different. Of course, there are modern, improved equipment, healthier food, and more efficient approaches to learning techniques. It is not enough, though. The key is understanding the individual specificity of a particular sportsman. Methods can be excellent for one person, but they won't work at all for another team member. 
With the help of digital sensors, it becomes possible to monitor the sportsman's efforts and state of health. They track the heart rate, hydration level, respiratory rhythms, muscle activation, etc. Also, high-speed cameras record the sportsman's activity and every slightest movement. 
With this data, coaches and sports doctors can develop optimal training programs. Sportsmen, in their turn, can make the most of their physical capabilities and avoid exhausting and traumas. 
Equipment 
What about wearing small and light devices like glasses and goggles that collect the necessary metrics in real-time? We can talk about the shoes for footballers and runners, sensors on the figure skaters' blades, and so on. There are also full-body suits to track each movement and monitor coordination. These pieces are already available for both professional sportsmen and those who do the sports for fun. 
Injury treatment and prevention 
Injuries, more or less complicated, are inevitable in sports. However, advancements in sports technology let the coaches detect potentially hazardous situations and prevent them. Specialized equipment protects the sportsmen from traumas. New technologies in sports medicine let doctors detect micro-traumas and start early treatment. Besides, rehabilitation is now much more efficient. With the help of modern technologies, a sportsman can recover the competitive shape much faster. 
These and many other examples of tech in sports raise the bar in high-performing sports. World records are set and beaten, making it all faster, higher, and stronger. And, of course, more exciting for spectators. 
Fair game 
Corruption scandals and scandals related to judgment are the poison for sport. Many popular sports suffer from poor judgment and unfair play. Often, they call it the human factor and relate to personal subjectivity. Besides, judges are only human beings, and they can make errors accidentally. 
Now, we can speak about highly efficient cameras and sensors. They are already allowing for recording the whole event and catching any dubious moment to replay it and examine if any mistakes or biased judgment could take place. Even such subjective sports as figure skating can become much more transparent when using future technology in sports. 
Media presence 
The global sports market is grounded on personalities. Popular athletes are role models. Their personal brands cost many millions, and their value grows when more and more people from different countries get interested in this sport and its heroes. One of the key factors is the power of social media. 
The advancements in sports technology made the sports stars closer to their fans. Charity programs, mentoring programs for talented young sportsmen, and online events where every fan can communicate with the idol help the sport grow globally. 
One more essential aspect is widening the sports coverage. It does not matter where you are because you can follow your favorite sports event in real-time (adjusted for your time zone, of course, but it is up to you). The biggest broadcasting platforms offer the service of viewing any event online. 
Let's take the Eurosport Player as an example. You can install it on your desktop or a mobile device and watch your favorite game from any place. All you need is Internet access. This way, sports that seemed local and less exciting to the global audience gain millions of new fans. 
The Viewer's Experience 
The biggest tournaments attract hundreds of thousands of people from all over the world. Now, it has become easier to reach the destination and witness the event sitting in the first row. Still, no matter how many people can be present at the tournament physically, those who follow it from home will be much more. 
What could the technology in sport bring to the sports fans? 
Mobility. As mentioned earlier, there is no need to stay at home in front of the TV screen and wait for the broadcast to start. Now, you can follow the event in real-time from the mobile device. 

Interaction. Nothing could compensate for being in the sports bar with your friends, but you all can be online, watch the events together, and share emotions at once.  

Unique experience. The virtual and augmented reality effects make the sports broadcasts much more exciting. There is the possibility to access additional data and even feel like a part of the action in virtual reality. 
For sports fans, it was always a separate kind of enjoyment to watch the live sport in the stadium. But when it is impossible for any reason, tech in sports helps you enjoy your favorite competitions. 
Also, we can talk about the two big trends. There are solutions for global high-performance sport and solutions for everyday use. 
They are intertwined. Many innovations that appeared to serve the top sportsmen entered the public markets. An average person that does some sports to stay healthy will also benefit from technologies developed for the top performers. 
Solutions for fitness and wellness 
Despite the fall of the high-performance sports market caused by the global pandemic, another segment got an incredible boost. It was the field of personal tech in sports for daily use. When lockdowns were introduced in different countries worldwide, and people were asked to stay home, they needed the solutions to keep themselves fit. 
When so many employees were forced to work in home offices, it was necessary to allow them to do the quality workouts at home too. Specialized platforms for telefitness, applications for exercises, personal performance trackers, nutrition calculators, and other solutions gained popularity fast. They also became one of the most popular areas for tech startups.
With the help of telefitness platforms, people got access to the many personal training programs and consultations of professional fitness coaches. Dedicated mobile applications let them record the important metrics to evaluate the quality of performance and adjust the training modes for individual qualities. Efficient sports equipment became available for regular users. This market segment has grown significantly, and it won't fade. It has already proved its value. 
Some examples of tech in sports
The most popular products cover the needs of sportsmen of any level and sports fans. This field is huge, offering plenty of opportunities to entrepreneurs interested in the development of some sports-related digital solutions. Let's name a few: 
Mobile applications 
As many pundits say, you can do everything with your smartphone. And if something is not possible, it means you haven't installed the special mobile app for that task so far. At the moment, you can choose from a wide variety of apps for home exercises, training programs, trackers for the workout quality and progress, hiking and tracking apps etc.
Dedicated software for clubs, teams, and events 
Web platforms and mobile apps serve many purposes. The "internal use" allows the managers to create profiles, organize events, publish the content, etc. Sports fans use such applications to get united in fan communities. Also, these tools are means of communication between the athletes, their representatives, and fans. Some of the achievements in this field at the moment you can check here https://jatapp.com/services/application-development/.
Web development 
This area mostly relates to content distribution. Specialized websites for broadcasting, collecting stats, professional analytics, and other resources are the service of devoted sports fans to enjoy their hobbies. 
Platforms for fitness business 
Dedicated platforms where users and fitness instructors can have a meeting point were demanded in the past, and have become extremely popular now. We can mention the training management, personal coaching, and other services. 
Sport is the world. You might hear this statement. And, like the rest of the world, it needs efficient technologies to improve. The great sportsmen of the past weren't able to demonstrate the fitness level of the modern sports stars. Many sports did not even exist 30, 40, or 50 years ago. But we are witnessing the global development of this area. We know that the advancements in sports technology will make it more and more exciting. 
Author Bio:
Isabelle Yang is a freelance journalist and content creator who specializes in tech innovations and marketing strategy. Her main goal is to create valuable content that will help the audience understand trends in technology and marketing.